Status of a Submitted Ticket
Once a ticket has been submitted, users will be able to follow the status of the ticket by accessing the 'My Activities' section where they will be able to view the below screenshot: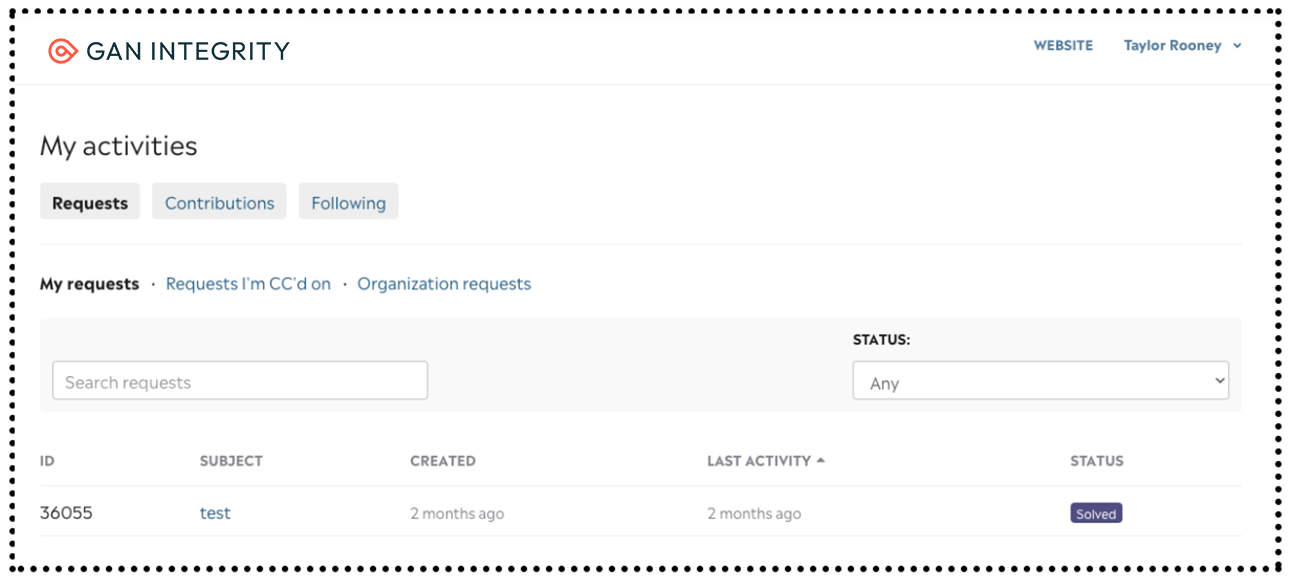 This page allows the user to view various tickets and details.  At the top of the table a user is able to view requests that they have submitted ("My requests") or requests they're CC'd on ("Requests I'm CC'd on").  Additionally, there is a third option "Organization requests" where a user is able to view all tickets submitted by individuals within their organization.  This option can be turned on or off for each individual.

This page also displays high-level information for each ticket with each column defined below:

ID:

This column displays the Zendesk Ticket ID

Subject:

This column displays the Subject of the email that is entered by the ticket submitter

Last activity:

This column displays the date since the last update was made to the ticket

Status:

This column displays the status of the ticket.  The below table shows the possible statuses and the definition of each:
| | |
| --- | --- |
| Status | Definition |
| Open | Ticket is assigned to the GAN Support Team and is currently being worked on |
| Pending | GAN Support Team has reviewed ticket and additional details or confirmation is needed from the user |
| Solved | Ticket has been solved by the GAN Support Team and user is able to proceed |
Updating a Submitted Ticket
Once the GAN Support Team responds to a ticket, the Requestor and any individuals CC'd on the ticket will receive an email notification that contains all ticket comments.  Any replies to this notification will be captured directly in the ticket and users will not need to log back into the system to update a ticket.
New Question, Incident, Problem, or Task? 
As a ticket refers to one question, incident, or task, we suggest new issues should be raised as new ticket requests.
This ensures that the next available agent can attend to your ticket as soon as possible.
Want to know more?
Suggested next read: Report an issue with a training
Questions are welcome
Contact us through your GAN Solution Delivery Manager, GAN Account Manager, or GAN Support. 
© 2022 GAN INTEGRITY INC. ALL RIGHTS RESERVED | The information contained in this document is solely for the intended recipient and may not be used, published or redistributed without the prior written consent of GAN INTEGRITY INC. While every care has been taken in preparing this document, GAN INTEGRITY INC. reserves the right to revise its contents without prior notice.