Why Enhanced Third Party Monitoring?
A successful due diligence program is one that adopts a closed-loop approach, continuously monitoring third parties and staying on top of any potential changes in third party profiles and activity that may alter initial assessments of risk levels. For this reason, we have built an integrated feature to allow ongoing monitoring capabilities to capture relevant changes that affect any and all screenings performed on our customers' third parties.


 Third Party Monitoring at a glance
When an RDC screening is completed on a third party, the event is recorded on RDC's database. Whenever new information is found on this screening record, RDC will trigger a Portfolio Monitoring alert, which is then captured in your platform. This enables you to review the new information in a PDF report on the third party in the platform and react accordingly.


 See everything you need in one view
Get notified via automated alerts triggered by every update captured. Find all new alerts listed inside the Screening table for quick access and review. The Screening table also contains an Alert Bell displaying the total count of alerts that need to be addressed. By clicking on the bell you can expand all of the screenings that contain alerts that 'Need Review'. The Screening table will also display the status of alerts, date of submission, assigned owner, date of review, and any comments submitted to reviewed alerts.
Please see below a short video on this functionality in action.

 Quickly address potential risks
Your third party Screening table will provide you with a quick view of the original search and the respective screening status, along with an icon on each search, indicating the total count of alerts on screenings that need to be reviewed.

 Easily manage your monitoring alerts
Clear alerts by clicking on an entry to mark alerts as reviewed or to rule out false positive matches. Once complete, the alert will receive a green check mark indicating that it has been reviewed with the respective comment stored inside the comment box associated with every screening.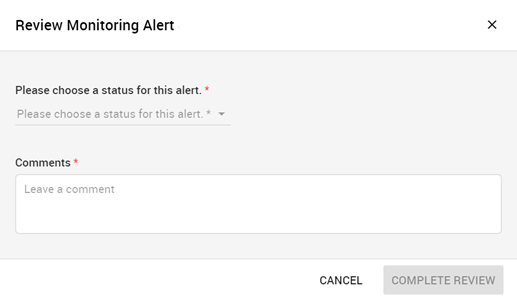 Assign automated email alerts to the appropriate  stakeholders
Email alerts will by default be sent to the owner of the third party. Alternatively, this setting can be adjusted to send alerts to a defined group of selected stakeholders of your choice.   
When alerts are marked as reviewed, the system will automatically trigger a notification to the third party owner - or other assigned recipients - letting them know of the change in the alert status.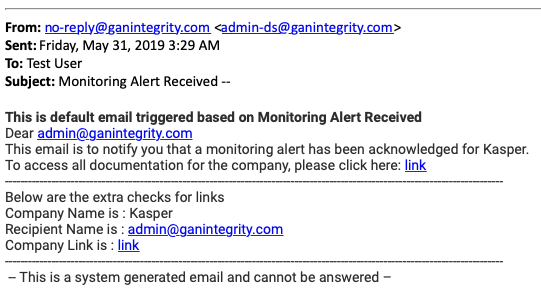 Control data at your fingertips.
Filter through your Screening Table based on Alerts Pending and quickly identify which third party relationships need to be reviewed.

 Don't worry about tracking your diligence. 
The platform will do it for you. All alerts and respective reviews will be stored in the platform's integrated activity log. You can also track to whom alert notifications were routed, and when and who reviewed them, allowing you to always have an auditable trail of your due diligence activity.