Status of a Submitted Ticket
Once a ticket has been submitted, users will be able to follow the status of the ticket by logging into Zendesk and clicking the My Activities section.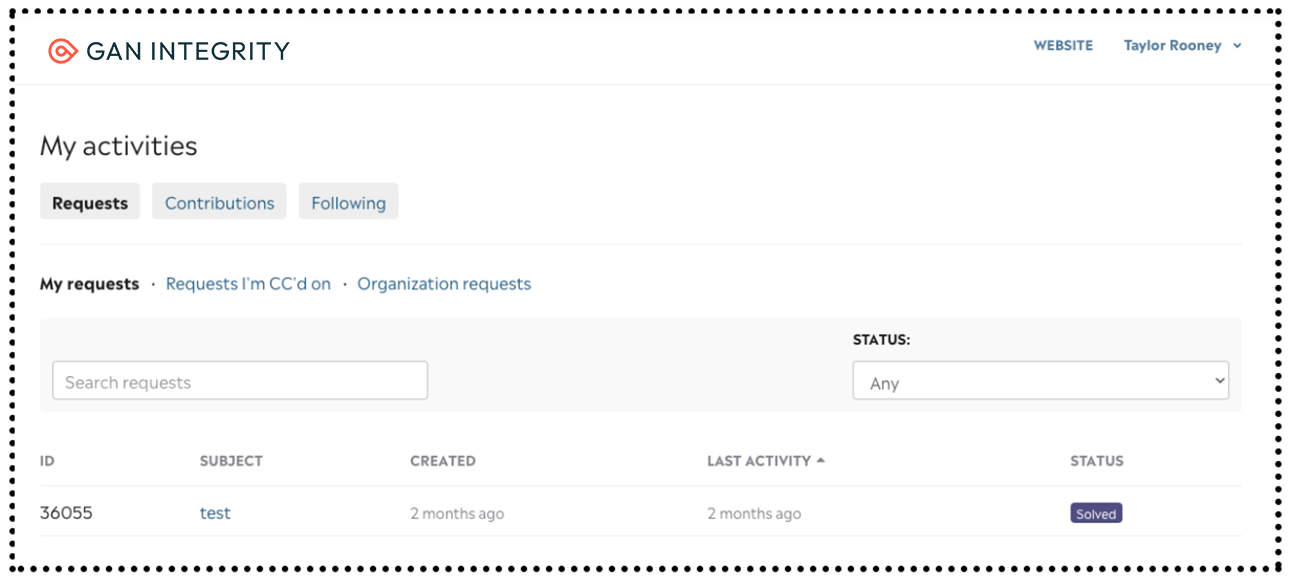 The My Activities page allows the user to view various tickets and details. 
My requests → Requests submitted. 
Requests I'm CC'd on → Requests CC'd on.
Organization requests → Depending on permissions, this shows all requests submitted by the same organization. 

If you'd like to request different permissions, please contact your Customer Success Manager or open up a support ticket. 
This page also displays high-level information for each ticket with each column defined below: 
ID: Zendesk Ticket ID. 
Subject: Subject of the email which the ticket submitter entered. 
Last activity: The date when the last update was made to the ticket.
Status:

See below.
| | |
| --- | --- |
| Status | Definition |
| Open | Ticket is assigned to the GAN Support Team and is currently being worked on |
| Pending | GAN Support Team has reviewed ticket and additional details or confirmation is needed from the user |
| Solved | Ticket has been solved by the GAN Support Team and user is able to proceed |
Updating a Submitted Ticket
Once the GAN Support Team responds to a ticket, the requestor and any individuals CC'd on the ticket will receive an email notification that contains all ticket comments. 
Any replies to this notification will be captured directly in the ticket and users will not need to log back into the system to update a ticket.
If the GAN Support Team asks for additional information (i.e. moving the ticket to a Pending status) and receives no reply for 7 business days, the ticket will automatically be closed and a notification will be sent to the ticket requester.
© 2023 GAN INTEGRITY INC. ALL RIGHTS RESERVED | The information contained in this document is solely for the intended recipient and may not be used, published or redistributed without the prior written consent of GAN INTEGRITY INC. While every care has been taken in preparing this document, GAN INTEGRITY INC. reserves the right to revise its contents without prior notice.