This article covers the following topics:
Improved Download of Third Party Information 

Comment Section Header Description

Enhanced Due Diligence Activity Log 
Improved Download of Third Party Information 
The download functionality within your Due Diligence platform has been improved to give you a more seamless downloading experience and a polished PDF print of all the required third-party details. Enhancements to the platform's download functionality will enable you to download a consistent pdf print across different browser platforms. 

Comment Section Header Description 
The comment section has recently undergone multiple changes and enhancements allowing you to take in-app communications to new levels. So far we've enabled anonymous communication with whistleblowers, allowed anonymous whistleblowers to upload additional evidence as well as the notification of case managers of new comments submitted. 
Mindful of the sensitivity of the information that might be added to the comment section, along with the different use cases to which it is applied, we've also made it possible to include a header description or, for instance, a warning to let users know of whom else might be able to view the submitted information. The text can be tailored to your specific needs with the possibility to translate all comment section header descriptions and warnings via the GAN ICM's translation setup.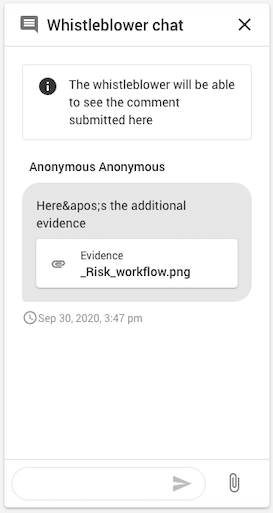 Enhanced Due Diligence Activity Log 
With the need to effectively document all third-party due diligence activities in mind, we enhanced the Due Diligence platform's activity log to display the name and location of screened third parties. The Activity log will also display the name of the person initiating the screening as well as the date the action was carried out. With the Activity Log enhancement, you can now have a more detailed audit trail, allowing you to keep track of which third parties are being screened. Roles that enable access to the Activity Log will be able to stay on top of these details, these include all roles with the exception of Employees. 
We're thrilled to get these new features in your hands. Stay tuned for another update next month!